Meet Carmel

Official Bio
Carmel Joy Baird is a world-renowned Spiritual Medium and Everyday Witch. She has filmed 2 seasons of an international hit reality show called Mom's a Medium, written a best-selling book with Hay House publishing, has provided a connection to Spirits for thousands of people across the globe, and is one of the few if not the only Medium in the world, to offer a certification program to her students who want to learn how to develop their own intuition and psychic medium gifts.
She lives on a breathtaking ranch just outside of Edmonton, Alberta, Canada with her husband Dave. Along with talking to Spirits, she also breeds and raises Gypsy Cob horses and English Labradors. They have 6 adult children (many who live and work on the ranch) and Carmel is also the proud Nana to 7 grandchildren. Their home is always a place of laughter, love, and on-going entertainment.
She's not only a Spiritual Medium who gives readings to clients, but she's also an Everyday Witch who lives her life connected to energy, nature and strives to stay in flow with the Spiritual laws of the Universe. Her greatest passion is to continue to teach thousands of students around the world to grow, expand, trust themselves and trust Spirit.
Let's get personal

Life didn't start out with me understanding the world of Spirit. Instead, I grew up in a home riddled with abuse, addiction, and many tough life lessons.
It's fair to say that Spiritual Medium is certainly not what I thought I'd have on my resume at 50 years old, if ever. Most of my childhood and young adult life, I suffered from extreme panic and anxiety disorder. I used to think it was due to an abusive marriage and all the trauma I'd lived through as a child. I tried to find a cure through medication, counselling, and doctors, but nothing seemed to work.
It got to a point where I just couldn't take it anymore. I began searching for answers within myself to try and make sense of why I felt this way. I was lead down a path of healing. Almost like following breadcrumbs that had been left out for me along the way by my Guides. When I discovered what was really happening to me…I then knew I was connecting with Spirits on the other side and had been doing so my whole life! I just had no idea what was happening and instead thought I was crazy!
Finally feeling as though I'd found freedom, I began giving readings to clients and sharing the messages from the other side. I just wanted to help and share my gift with the world. This seemed like the next natural step and has evolved from there.
My journey even after discovering I was a Medium, wasn't always an easy one. It's taken me through many twists and turns and big life lessons that I've navigated along the way. I suppose I'm an old soul who had a lot to learn in this lifetime. It took me a long time to not be ashamed of hearing voices, feeling truths, and seeing visions.
 I'm also proud to say that I consider myself to be an Everyday Witch, something that just comes naturally to me and fits into my everyday life, like it's perfectly normal. My grandchildren will often find me mixing herbs, gathering in nature, cleansing with crystals, and setting up altars in the light of the full moon. I am blessed to have found my way. I feel compelled to share my story with others in hopes that they may understand what is really happening to them as well.
I truly believe we are all witches, healers, mediums, intuitive, empathic and more …and sometimes we just need that one person to light the path ahead of us.
If that's me for you …I'm happy to light the way.
Moments I'm Proud Of

The Sheetz Show 630 Chat (Segment 2)

The Sheetz Show 630 Chat (Segment 3)

The Sheetz Show 630 Chat (Segment 4)
Mom's A Medium

Ethan Miller's Old MacDonald Farm
Testimonials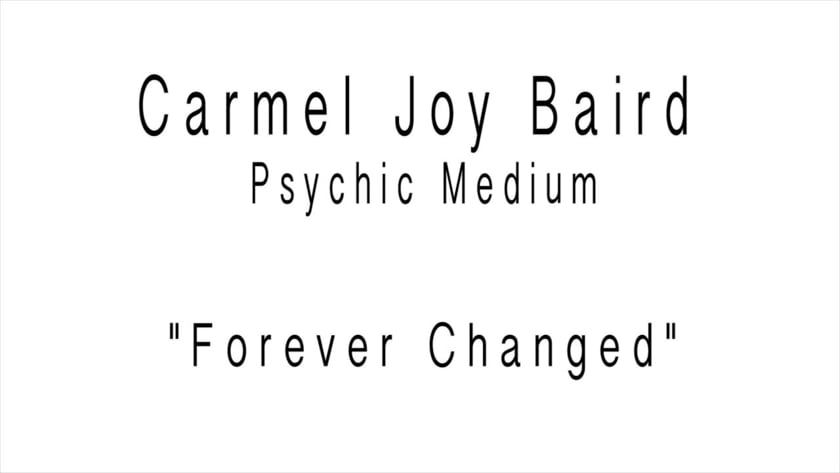 Dearest Carmel,   Your mini reading has affected me in such a surreal manner.  My mom departed so before her time and I felt she was robbed of so many uncompleted accomplishments.  Your perception of her is very accurate. The "Carol" would be my blonde niece Kayla, who, after years of trying to conceive, found out after mom's funeral that she was pregnant. The two by two are my brothers or my twin daughters. I took flowers to my mom's grave for the first time since she passed. I saw my first hummingbird today. I kept her glasses after she passed. My daughter just started her new physiotherapy assistant job.  I am so thrilled that she says I have done the right thing and I know that's for sharing a life insurance policy with my brothers that she had left to me. I've tried to settle all her affairs as she would have, with fair, honesty and integrity.  I'm left with a giant void in my life/heart and this reading has confirmed that she is still with me.  Words cannot express my gratitude to you and my daughters for providing me with this reading. You are a very talented lady and I thank you from the bottom of my heart.
Hi Carmel, I absolutely needed to reach out to thank you for these mini readings. You never cease to amaze me. The first one was with my father a few months ago, and it moved me to ugly crying tears, and peace in my heart. Then I got my reading for the mini card message on June 2nd. For some reason, I never saw these until today, exactly 1 week later. Last week as I was doing my drop in visits for my clients dogs, I saw a feather outside. I am also constantly seeing birds in need of making themselves present to me lately. I hadn't thought much of this, until today. When the mini reading with my Mom had revealed she always sends me birds-this must be why I love them so much. She also said to look out for feathers. And that's when I couldn't hold back the tears. I lost my mom to Leukemia the week before my 4th birthday, and don't remember much of her. This was an incredibly moving reading for me. My step mom was referring to an opportunity and you were sensing I may have my own business.I have started as an independent contractor as a dog walker/pet sitter and I have over 100 amazing 5 star reviews. All since February 1st. This gig has meant the world to me and I have never worked harder for something in my life.    All in all, the moral of the story is that you are an incredible person and I thank God dearly for the opportunity to come across your page on Facebook, further taking the leap to trust in you to connect with those on the other side. Thank you from the bottom of my heart. I can't wait to do more mini readings with other family members.    Sincerely, Alison B
Thank you so much for my mini reading.  It was worth the wait and so much made sense. I can't thank you enough - I am so grateful.
Awesome, thank you so much! The accuracy in this quick mini reading took my breath away and confirmed so much of what I was suspecting all along. You have SUCH a gift Carmel, thank you so very much! Wishing you all the blessings life has to offer, ❤  
WOWSERS.. I just told my husband almost the very same thing a couple of weeks ago..WOW...except I didn't know my master guide's name was Hannah and the falcon WOW..kept seeing them...or thought it was a hawk...I am sooo blown away...I thank you from the bottom of my heart for this mini reading.. it was sooo needed..WOW timing really is everything..its like holysh*t YES..Carmel you are truly amazing.. I Thank you ???? ???? ????
I am beyond impressed with the accuracy of information you provided me. I know now without a doubt my parents are ok and with me at all times. Your kind voice is also such a blessing.  Thank you so much,  
Dear Carmel,
I would like to thank you so much for the Personal Connection Intuitive Reading and the information you shared with me regarding my Mom. You are a beautiful person with such a kind and precious heart and I feel very fortunate to have received your message.
Take care and may God bless you and your family.
Nancy
Rhonda
September 17, 2021
Good morning Carmel, I am more than pleased to provide my thoughts and experiences with Carmel; and, more so follow-up with regard to the appointment. Since seeing Carmel I have no doubt in my mind that I will not go to any other psychic other than Carmel herself. Her mediumship-readings have been very, very precise. So precise that I get freaked but when I think about all that has happened within the last six months and since seeing Carmel and being part of the women's group—so much change has occured and all of which are positive changes. I have learned to let go and become who I am today – closure played a big part of it and to have the spirits come and tell me that "it is okay" was something I guess I needed to hear. The experience itself was far more important to me than to continue to fall into the same trap of being a victim—I am no longer that victim. Insofar as the readings, it truly amazes me to get a better insight as to what has happened, what is occuring and perhaps what's in store for me. This is a gift itself. What can I say about "the rock" but I always seem to choose "the original" meaning one that no one has ever chosen and it's made me a firm believer to continue the path that I have chosen. Thank you ladies, you have been and continue to be an inspiration for me to continue with my journey towards healing and becoming a better person, to becoming truly myself.
All smiles :)
Lindsay Benesocky
September 9, 2021
I was referred by a good friend of mine to see Carmel. Like so many others, I was a huge skeptic prior to our meeting.  My first meeting with Carmel was in the winter of 2010 and I remember soon into the reading her saying 'your grandfather is here'.  Instantly I thought 'yeah right, what a typical thing to say'.  Then her next words turned me into a believer; 'he says he understands why you refused to go to his funeral'.    No one other than my immediate family could have known that.  I was the only one that didn't attend.  She also said that the man that I was currently with, I would marry and have three children with, first being a boy.  I was a little shocked by this, as I had just started dating Jackson and those thoughts had not yet entered my mind.  Well here I am, two and a half years later, engaged and planning my wedding with Jackson and pregnant with our first child…a boy.  Carmel was not only accurate with the prediction of my future, but truly opened my eyes to the world that is beyond this one where we all meet again. I have seen her again since our first meeting and have connected with others who have passed.  Here's how I see it now, we spend our lives afraid of death and what will come at that point; then when we get there and it's a pretty great place, that's when we may realize how minuscule our issues were on earth probably wishing we would have stopped and enjoyed the journey a bit more than we did. After seeing Carmel and having that understanding of there being an afterlife, gave me the opportunity to change how I live and look at things here.  I now do my best to see life's challenges as lessons, enjoy every interaction and every bite of food and actually take the time to stop and smell the flowers.
Thank you for the follow-up. It was really nice meeting you at the Coast hotel last week. Being able to the put the face to the voice and the name was great. I brought 4 people with me that night and we were all amazed. We were also tired. The energy in the room wears you out. I can only imagine how tired Carmel must have been. As for Carmel, you were right. She was amazing and I feel very blessed to have had the opportunity to have a personal reading with her in Parksville and then see her at the Coast Bastion Hotel for a large group reading. I guess last week was our family's week to finally hear from dad and Timmy and they sure had a lot to tell us about! I remember Carmel saying that my dad was talking a mile a minute and had a lot to say ;) I now know that my dad and brother made sure that us girls (me, my mom and sister-in-law) received their confirmations and messages. I was astounded that we received so much attention from them. They must really have been bugging Carmel to be coming through. Wow! It was truly a special week. Carmel is wonderful. She's down-to-earth, and talks to you like a good neighbour would. I definitely enjoyed getting to meet her and Dave (we had quite a nice chat in the lobby at the Travelodge in Parksville before my private reading on Wed.). You must really enjoy working for Carmel.
I hope you've had a restful week back home in Edmonton.
Dear Carmel, My step mom LOVED her reading, thank you for being you!! She called me crying last night saying how relieved she is, and has a new sense of peace.
April Glaicar
April 3, 2021
Just a quick note to say "thank you" for sending the beautiful reading.  Carmel you are amazing in sooo many ways and your compassion shines brightly.  The reading was so accurate – I actually gasped in disbelief many times<3 . I wanted to let you know that the "validation" question that Brieanne gave – was answered to perfection.  Carmel spoke about a folded up note – and that was it.  Brieanne had written a note and picture and no one knew he had it folded up in his wallet…even her – until his passing.  Brings tears of happiness to receive these messages.
Again – thank you Carmel and to all of you great ladies for helping to facilitate these gifts.
Carmel, I had a reading with you back in July and totally forgot to email you to let you know I had received the cd you had sent out. I've listened to it over again and it's outstanding how accurate what you told me has been. Thank you so much for everything and I hope to keep in contact with you later on.
The Book

A true life story from Lies of Shame to Truth Of Spirits
I have managed to unlock four truths that I now live by. They are the keys to life, keys that open us up to the reality of why we are here: love, peace, forgiveness, and balance.
With them, we have the power to achieve our greatest dreams and to master what I call "the game of life."
As we embark on my own complicated journey, reliving the good and the bad that led to my life as a mother, a medium, a teacher, an author, and a reality TV personality, you'll see how I lost my authentic self and how hard I struggled with all four of these truths. It's not pretty.
I spent 30 years thinking I was completely crazy, and to make up for that craziness I would do anything and everything to try to fit in. This included telling lies to myself and others, and living in a very small world, one where my authentic self was locked tightly in a closet, hidden away from everyone.
But there is no need for us to be ashamed of who we are. We are on this Earth to discover our authentic self and display it proudly to the world, letting our light shine.
Know that this is your birthright, and it is still within you.
Why Carmel wrote the book
Carmel wrote Truth Of Spirits to share her story of abuse, lies and shame with the thousands of others who she feels may be stuck in the same downward spiral in their own lives. By letting you into her world, she believes you will find peace from healing within your own self.
Who is this book for
This book is a true life account of Carmel's life from panic to peace. If you want to have a deep look inside the life of a Medium, are interested in knowing what it feels like to communicate with the other side, or if you yourself suffer with panic and anxiety, then this book is for you!
Why you need The Truth of Spirits
You need this book because the shocking truth of what's happened to Carmel may resound with yourself or someone else you know. Carmel believes we are all psychic's and Mediums and some of her story may sound very familiar to your own.
What you'll learn
You'll learn how Spirits communicate. How each and every one of us has a sixth sense. You'll learn the 4 truths to life and have a better understanding of those truths. You'll learn what panic and anxiety might be and how better to handle it.
Read it on your favourite device!
Read The Truth of Spirits on the go on your phone, tablet or laptop. All you need is an Amazon Kindle e-book reader, or the Kindle app.